The Steinerei

Logo for the Steinerei

Type

Annual award event

Location

Various locations in Germany

Founded

2005

Hosts/Founder

Mathias Mertens

Website
Steinerei is a German language brickfilming festival which is unique because the competition's award ceremony is held in the form of a physical ceremony in a cinema. It has been held since 2005 in varying locations.
Each year of the festival has a different theme and as a result most of the entries are created especially for the event and have their 'world premiere' on the day of it.[1]
The event first began in 2005.
Judging and Prizes
Edit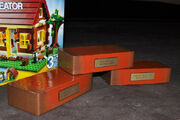 Each year three different prizes are awarded at Steinerei.[2] These are:
The Prize of the Brickfilm makers - this is decided by the people that submitted entries
The Prize of the Jury - this is awarded by a group of three professionals from areas related to brickfilming
The Prize of the Audience - this is voted on by the live audience at the event.
Each winner of each prize recieves an actual brick!
References
Edit
Ad blocker interference detected!
Wikia is a free-to-use site that makes money from advertising. We have a modified experience for viewers using ad blockers

Wikia is not accessible if you've made further modifications. Remove the custom ad blocker rule(s) and the page will load as expected.