Welcome to Brikifilms, the brickfilming wiki!
Just so that you're aware, most of the brickfilming community works on brickfilms.wikia.com rather than this wiki these days.
It is a much larger and better laid out wiki and I hope you'll choose to join us there rather then staying on this neglected one.
--
BoatsAreRockable
(
talk
) 21:25, January 12, 2015 (UTC)
New to Brikifilms?
First of all welcome on board! This is a wiki, which means that almost any page can be edited by anyone including you.
However while we welcome as much help as possible, we ask that you visit our Community Portal before making any edits to Brikifims to get an idea on how things work around here.
Explore The Wiki
About Brikifilms
This wiki is dedicated to the art of creating "brickfilms". Brickfilms are stop motion animated films created using LEGO, Megablocks or other plastic brick construction toys. Brickfilming has been around since the 1980s and has an interested history and active community. Thanks for stopping by and we hope you learn something new about brickfilms!
Find out more about Brikifilms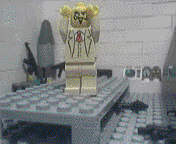 An example of a Brickfilm.
Recent Wiki Activity